What This Week: February 13
February is hitting its stride, meanwhile, I'm stuck in a bit of a reading rut. Maybe it's the weather, or maybe I'm just tired, but either way, I don't have much motivation to read. Every time I pick up my book/Kindle I manage to read a few pages and then get distracted by some creative thought, something I want to do for the blog. So, I've been working hard on creating killer book blog content. I'm sure I'll find the motivation to read soon, but in the meantime, here are my plans for What This Week: February 13.
This blog is reader-supported. I earn a small commission from affiliate links in this post when you click on the link (at no cost to you). As an Amazon Associate, I earn from qualifying purchases. For more information, visit my legal page.
What This Week: Reading
See above for the reason that I'm still working on a few of the same books I featured in the last edition of What This Week. I'm really enjoying Bright and Deadly Things and hope to finish it soon! Next up is The Little Wartime Library, a WWII historical fiction that seems bookish AF, which I'm sure I'll enjoy. After that, I hope to start The Secrets of Hartwood Hall, a brand-new gothic historical fiction set in Victorian times. I adore gothic novels so I have high hopes for this one!
What This Week: Watching
We've been watching a few old movies this week, as well as catching up on our favorite new series, The Last of Us. If you've not seen the show yet, you might be missing out on the best thing since sliced bread. There are a few shows with new seasons starting soon that we can't wait for, but more on that in future editions of What This Week.
When we're not watching or talking about The Last of Us, we've been enjoying Poker Face, a brand new Peacock series starring Natasha Lyonne. Is it cheesy? You bet. Is it predictable? Yup. But is it entertaining? Yes, it is! We've enjoyed every single episode we've watched so far, mostly because Natasha is brilliant. If you liked Russian Doll, then you'll absolutely love her new character, which is pretty similar. The cinematography in Poker Face is also brilliant, which isn't always the case with TV shows. The opening shots of each episode in particular are pretty special. And I should also mention that Benjamin Bratt is still hot as heck!
What This Week: Last Minute Valentine's Day Gifts
If you're like me, you probably forget to get your guy a Valentine's Day gift until the last minute. Let's face it, I'm pretty much a last-minute kind of person, so this feature is very much on-brand. So, if you're a procrastinator like me, don't miss these last-minute gift ideas that are sure to please even the pickiest partner!
for the whiskey lover
I tried Redbreast Irish Whiskey the other night and was blown away! Order a bottle for pickup at your local Total Wine & More!
for the chocolate lover
John Kelly Chocolates are always a good idea! Fudgy and delicious, find them at your local Whole Foods!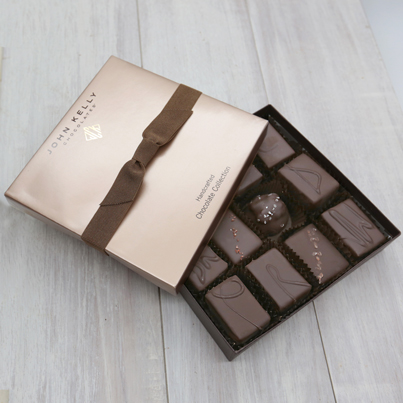 for the world traveler
Give the gift of learning with a 12-month subscription to Babbel, the #1 language learning app!
Before You Go
If you enjoyed this post, then be sure to sign up for my email newsletter where I share updates about the latest reading wrap-ups and blog posts, must-see book deals, and my What This Week series! If email isn't your thing, head to Bookstagram to follow along for all the bookish fun!